Filming Kristofer Turdell skiing on Helags
As a filmmaker specializing in capturing adventure sports, I've skied alongside world-class athletes, braved harsh weather, and pushed my limits in extreme environments. Today, I want to share my adventure as skiing camera operator next to Kristofer Turdell.

My goal? To inspire, reflect, and show you how I overcome challenges in pursuing the perfect shot. 
Filming skiing at Sweden's Highest Peak South of the Arctic Circle
Our journey took us to Helags, a majestic Swedish mountain, to film a follow-cam of Kristofer Turdell, the reigning freeskiing world champion. Skiing with camera next to the pros is part of my job, but this expedition was uniquely challenging.
Helags, the highest mountain in Sweden south of the Arctic Circle. It's famous for its stunning natural beauty, featuring Sweden's only high-altitude glacier.
The mountain's peak is 1,797 meters above sea level. 
The weather in Helags can be variable and extreme. This time we had temperatures down to -30°C
Breaking crust - Most challenging conditions to ski in
We had envisioned skiing in a winter wonderland, with soft, powdery snow underfoot, which was replaced by the harsh reality of a breaking crust. Breaking crust can be among the most challenging conditions to ski in, creating a tough surface layer that breaks under the weight of a turning skier.
Navigating Challenges & Celebrating adventure filmmaking Triumphs
Filming skiing in good snow is a challenge, but throwing in hours of hiking, unpredictable snow conditions, and the ever-present threat of avalanches becomes a whole different beast. This time, our quest for safe, well-lit snow led us to the top of Helags. The snow condition was a far cry from what we had hoped for. The crust, a hard snow surface lying upon a softer layer, was breaking, making skiing a monumental task. Now, imagine skiing in these conditions while operating a gimbal equipped with a Red Komodo!

The threat of avalanches is a constant concern, too, especially when you're skiing in pairs and putting extra pressure on the snow.
I was tasked with keeping up with the two times world champion Kristofer Turdell while operating a gimbal equipped with a Red Komodo. Not an easy task.
I set up my camera and prepared the descent alongside Kristofer. The pressure was on to nail the shot on the first try. To improve my chances, I used a Canon RF 15-35mm at 20mm, a wider lens than initially planned. The result? We nailed the shot! This experience reinforced a lesson I've learned repeatedly: Preparation is key, but when Mother Nature sets the rules, you sometimes have to adapt and change your plan.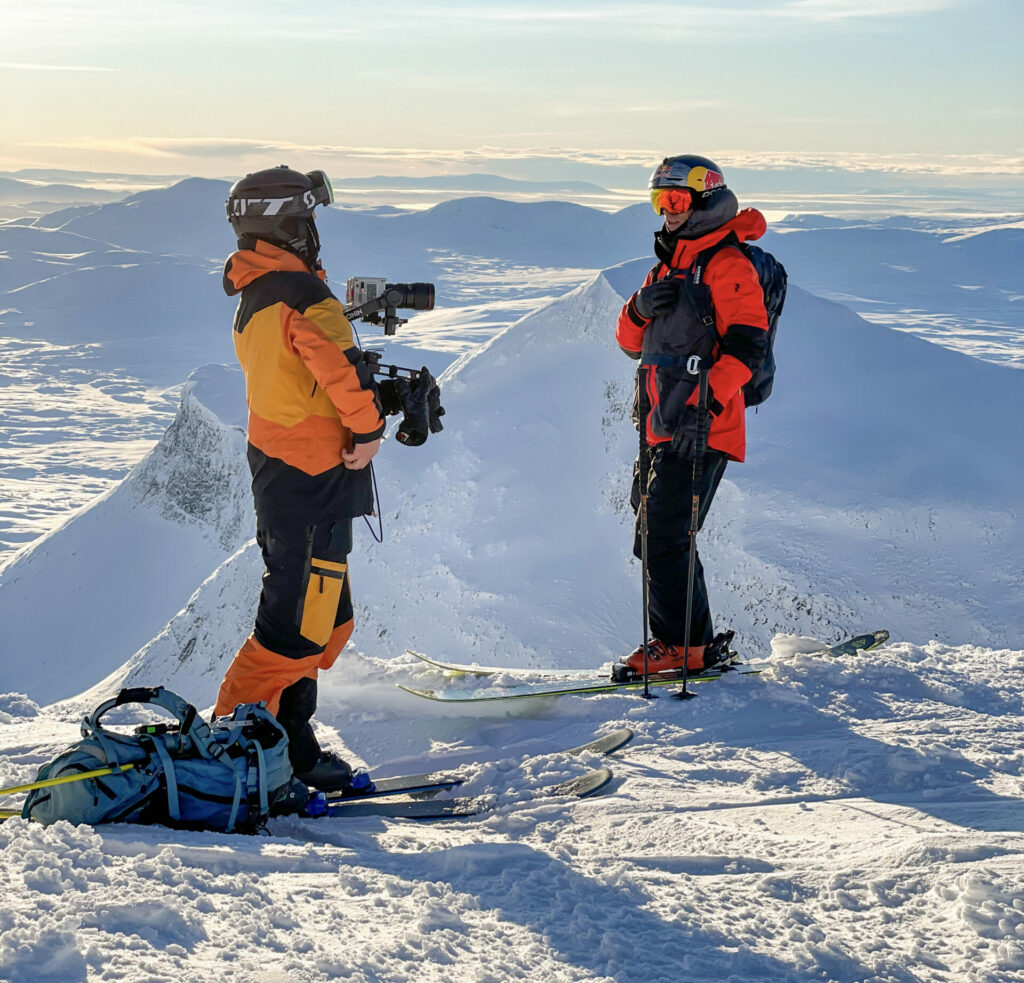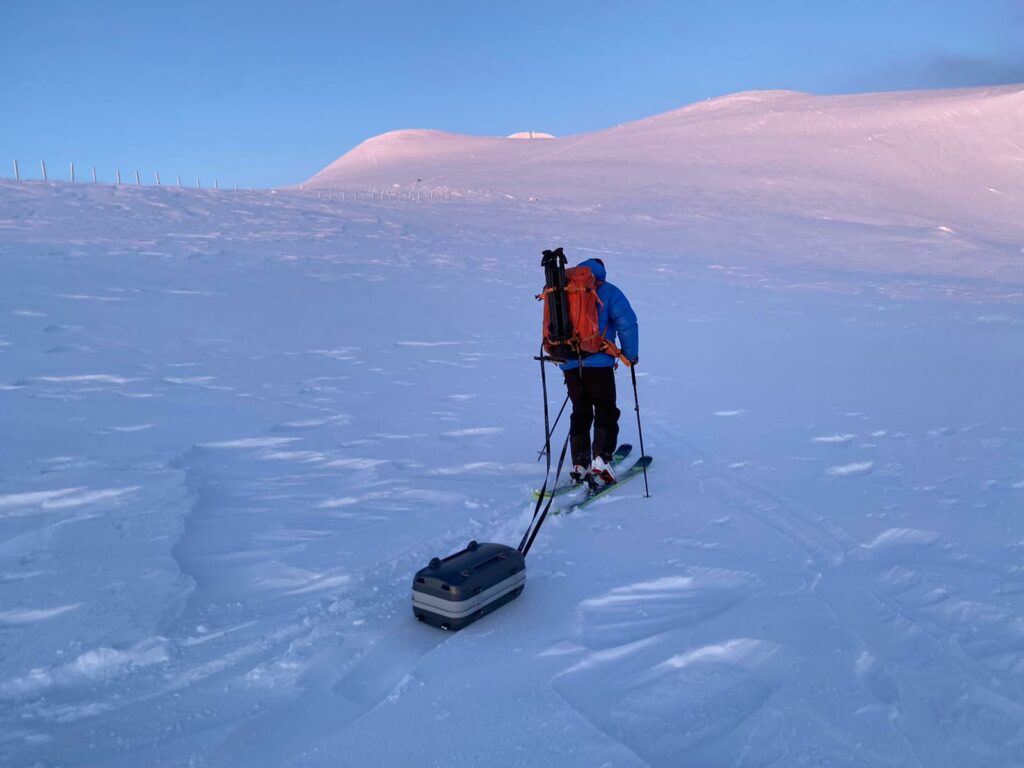 Unforgettable Moments & Surprise Finds
Despite the challenges, there were moments of joy and amusement. One such moment was when i turned to see my friend and producer, Erik Putsep, transforming his 20k euro tele-lens into a makeshift sled! And nothing could beat the taste of a cinnamon bun at the summit of Helags, a sweet treat savored while scouting the best lines to ski.
Insider Tips for Aspiring Skiing Camera Operators
Planning is vital when shooting a follow-cam. The skier and the camera operator must communicate effectively, understanding each other's paths to avoid collisions and frame the shot correctly. Its all about timing your turns strategically to prevent potential acident. Always be prepared to adapt to mother nature's force.
Whats in my camera bag during as adventure filmmaker
Camera: Red Komodo
Lens: Canon RF 15-35 f2.8
Gimbal: DJI Ronin RS2
Monitor: SmallHD Ultra bright 5 inch
ND filter
Battery: Vlock
Battery: 2x Canon
SDI cable, Hyperthin
Camera bag: 8 year old, F-Stop Tillopa 50L
Skis: Head Kore 111
Skins

Down Jacket

1.5l water

4x Energy Bars
1x Sandwich